Ever since I
found out about Groupon
(decades after the rest of the world haha) I've enjoyed sifting through my daily email to see if there are any good deals. We've purchased a few
Groupons
over the past few months so I'm going to blog about our Groupon adventures over the next few days. Capiche?
Yesterday morning Chris didn't have school and I decided to work later in the day so we headed over to Hollywood (that still is soooo weird for me to say and fathom that we live next door to Hollywood!) to go to
Madame Tussauds
. We had a Groupon for 2 tickets for $20. Pretty good deal when regular tickets are $25 a pop!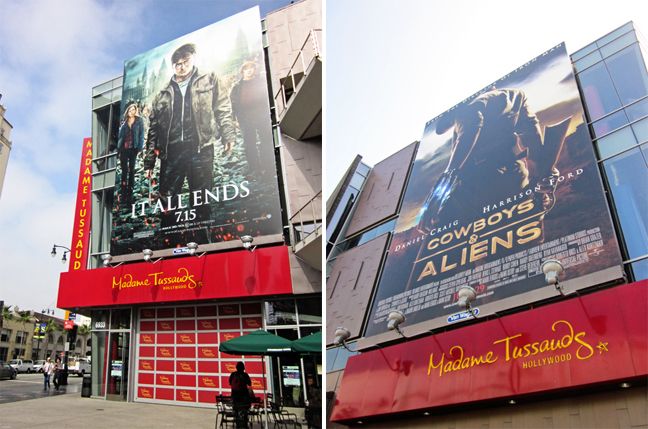 We arrived around 9:30am so we had a half hour to kill before it opened at 10am, which was easy to do.
All over the pavement in front of the theater, stars have imprinted their hands and feet and a message.
Random Spidey....
Kermit the Frog? Really? They're just giving these things away! Where's the Chris and Paige and Fox star? Holler to Walt Disney, Mickey Mouse, Michael Jackson, Christopher Reeve (that one's for you Dald!), and the random star someone personalized themselves - genius :)
We combined the Michael J. Fox star and someone with the last name Evans to make our own stars :)
Every other store along Hollywood Blvd is a tacky gift shop with fake Oscars and LA paraphernalia and what not.
At 10am we walked back to Madame Tussauds.
Shrek was at the entrance to greet us.
Once the elevator opened to let us out on the 3rd floor there was this wax figure right in front of us and literally, I kid you not, I thought it was a real person. Then it didn't move for over 10 seconds and I realized it was fake. I was beguiled!
I took over 80 pictures of the wax figures, which I'm not going to post individually, so Picasa collages will do! Pretty much these wax figures are AMAZING. They look so real it's creepy!
Wax figure trivia:
Mr. Fox sitting in a big chair on the 2nd floor.
I heart Groupon!